Thinking About Buying?
Why not work with an expert?
Buyer Representation comes at no cost to you!
You can put your trust in Yvonne. She is a trained professional whose job it is to take care of you.
Yvonne can assist you with any questions you may have regarding location, down payment, monthly payments, schools, etc. She is an excellent listener and she will pay attention to your needs.
Yvonne lives and works in Rogers Park and on the North Shore. She calls the far north side of Chicago home and she knows everything that you need to know to find the best home for you at the right price.
She can offer proven referrals for mortgage brokers, real estate attorneys, appraisers, home inspectors, termite inspectors, radon inspectors, etc.
She can show you ANY home that is for sale, whether it be listed with another real estate company or "For Sale By Owner."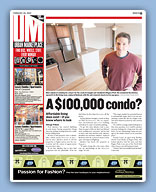 Yvonne Carns, an agent from Lakeshore Real Estate, who helped Jakubco find his unit, said that Rogers Park is one area of the North Side where buyers can still find good deals.

"I know Nick was thrilled with his deal," Carns said.
My List of Questions for Potential Buyers
What type of home are you looking for?
(Single Family Home, Condo, Multi-Unit Building)
What is your living situation currently?
(Do you have a lease? If so, when does it expire? Is your current home under contract? If so, when does it close?)
What style of architecture do you prefer?
(Victorian, Tudor, Arts and Crafts, Georgian, New Construction, etc.) Is this important to you?
How many people will be living in this property and if you have children, what are their ages?
How many bedrooms and baths do you require?
Which of the following are "must haves"?
Central Air Conditioning
Dishwasher
In-unit Laundry
Garage
What type of parking do you require?
Do you have any pets? If so, what type and how many?
Do you prefer to live on a quiet street or in a busier area?
Do you need to be close to public transportation?
If so, do you prefer bus, train (EL or METRA)?
Do you currently have a Pre-Approval Letter from a bank or mortgage broker?
Is there anything else I need to know to help you find your perfect home?
First Time Buyer?
Are you thinking about buying your first home? Yvonne has sold over 50 homes to first time buyers. She knows everything you need to know to find a terrific new home that is just perfect for you! She has a detailed list of questions which helps her to understand your needs.
First Time Buyer Frequently Asked Questions
How long does the home buying process typically take?
It depends on your individual situation, but 6-8 weeks is fairly common. If you know what you want, and where you want to live, it usually takes about two weeks to select the property and six weeks to close.
How much money do I have to put down to buy a property? 
This depends on a number of things, such as your annual income, debt, credit rating and down payment.  I can discuss this with you in detail, when you're ready.
What are the benefits of buying versus renting?
Owning your own property is almost always more beneficial than renting. When you own, you can deduct all of the interest on your mortgage payment from your income tax. This means that you most likely will receive a larger refund every year.
What costs to I have to pay for before closing?
Typically you only need to pay for a home inspection ($300-$500) and an appraisal ($300-$400) prior to closing.  Other closing costs can sometimes be rolled into your mortgage or paid at closing.
How much are closing costs?
Closing costs in Chicago are usually about 2% of the purchase price of the property.
 
Is it possible to buy property if I have a bad credit score? 
Yes, you may be able to purchase property with a poor credit rating.  I can discuss options with you over the phone, as this possibility will be determined by a number of factors.
Plus, real estate is typically an appreciating asset, which means that over time, your value usually increases.
In addition, you help to secure your housing expenditure over time, (your mortgage payment will stay the same, while your income will usually grow.)