Yvonne Carns is a top-producing Realtor with over $80,000,000 in closed sales.
She has been a full-time Realtor for the past 14 years. She has been awarded numerous sales awards and she is consistently ranked among the Top Producers Citywide in Volume from the Chicago Association of Realtors, and the Top Producers Citywide in Number of Units Closed from the Chicago Association of Realtors. She has also received the 100% Award and the Presidents Award from RE/MAX. Yvonne consistently ranks among the top 5% of all the Realtors in the city of Chicago.
Yvonne specializes in selling residential property, and her primary focus is always on protecting the interests of her clients. Although she acts as both a listing and a buyer's agent, she is one of approximately 1% of real estate agents in Chicago who voluntarily choose NOT to act as a dual agent. Yvonne believes that personal and professional integrity are paramount, and that her main duty is to always protect and serve her customers' interests. Yvonne is very proud to say that the bulk of her business comes from referrals.
Yvonne is a member of several local organizations, such as the Chicago Association of Realtors, the Illinois Association of Realtors, the National Association of Realtors, DevCorp North, The Rogers Park Builders Group, Skokie Community Garden, etc.
Whether you are a first-time buyer, or a seasoned investor, Yvonne will help you reach your goals and find the perfect property to meet your needs. Yvonne welcomes your correspondence, and would be very happy to meet with you to discuss your personal real estate needs. Please feel free to either call or email her today for a private consultation.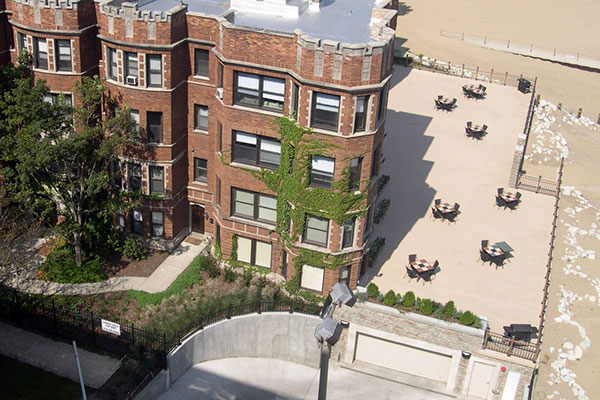 She has received dozens of glowing testimonials from previous customers & the bulk of her business comes from referrals...
"We decided to work with Yvonne Carns because of her successful experience in selling Rogers Park properties, her engaging manner, her scrupulous values, and her straightforward, professional approach.
When we met Yvonne for the first time, we made it clear to her that in addition to selling our house quickly and for as much as possible, we wanted an agent to be there for us 24-7 answering our questions and concerns and just generally being available to us during such a stressful time.
Yvonne explained in detail what services she would provide, including being available on a daily basis from 10 a.m. to 9 p.m., being present for all showings, sitting for more open houses and for longer hours that any other agent we knew, providing a virtual tour on the internet, and advertising in as many publications and as often as we mutually deemed necessary.
She also made practical suggestions about what we should to do make our house more saleable, and she spoke candidly about current real estate values as well as verities in the marketplace that would affect our asking price. We were impressed by her warmth and openness, as well as her obvious skill. When she finished, we were convinced that she would be our full-time advocate, and successfully sell our house.
And indeed, she was and she did. As a matter of fact, she sold our house in 45 days to a suitable buyer at a price that was acceptable to us. During the process, she was understanding when we got frustrated, she was firm when we were unrealistic, and she was helpful when we had concerns. Yvonne was professional at all times, and she made the experience pleasant and even fun at times.
With her winning personality, honesty, and professionalism, it is not surprising that Yvonne is so successful. We gladly recommend her as an agent to anyone who is buying or selling property."
Phil & Gwen Nordgren
Single Family Home Owners in Rogers Park
Recently Sold Properties
2234 Green Bay Rd., Highland Park
1277 Burr Oak Rd., Lake Forest
278 Linden Park Place, Highland Park
318 Grove Ave., Highwood
245-247 Washington Ave., Highwood
9235 Lorel Ave., Skokie
8430 Kedvale Ave., Skokie
800 Woodbine, Highland Park
423 South Blvd., Evanston
6738 N. Ashland Ave., Chicago
8833 Parkside, Morton Grove
9301 Lorel Ave., Skokie
3621 N. Artesian Ave. Chicago
420 Linden Ave. #402, Wilmette
1129 W. Pratt #4, Chicago
1327 W Albion Ave. #2, Chicago
9010 McVicker, Morton Grove
8442 McVicker, Morton Grove
1023 W. Thorndale #2, Chicago
4225 Lee St., Skokie
9249 Parkside, Morton Grove
1623 W. Estes, Chicago
9256 Lorel, Skokie
2025 W. Chase Ave., Chicago
8430 Kedvale, Skokie (Twice)
8532 N. Oriole, Niles
5118 Fargo Ave., Skokie1322 S. Wabash #109
6702 N. Sheridan Rd. #2
1218 W. Jarvis #3S
1529 S. State, #12A
1134 W. Columbia #2
1214 W. Jaris #1N
1350 W. Greenleaf #2
2647 W. Fitch #2
1507 W. Chase
6813 N. Wayne
1309 W. Fargo #1S
1050 W. Columbia #2F-3F
1208 W. Chase #1D
1114 W. Columbia #1E
1232 W. Columbia #1E
6220 N. Maplewood
1129 Elmwood Unit A, Evanston
8240 Karlov, Skokie
4642 Jerome, Skokie
6556 N. Bosworth
1901 W. Farwell
1309 W. Fargo, #2N
1908 W. Hood #5C
1423 W. Jonquil #1
1223 W. Jarvis #1
1423 W. Jonquil #2
1200 W. Sherwin #1K
5545 N. Sheridan Road #3211
1426 W. Sherwin, Chicago
5112 N. Lotus, Chicago
4959 W. Winona, Chicago
605 Custer, Evanston
1752 W. Arthur, Chicago
4951 W. Fletcher, Chicago
5343 N. Lynch, Chicago
2024 N. Burling #026, Chicago
1529 S. State #12A, Chicago
1125 W. Lunt #303, Chicago
1423 W. Jonquil #3, Chicago
1219 Hull Terrace #3, Evanston
1406 W. Jonquil #3, Chicago
6912 N. Sheridan Road #3, Chicago
1408 W. Jonquil #2, Chicago
1200 W. Sherwin #3N, Chicago
1200 W. Sherwin #1N, Chicago
1200 W. Sherwin #2L, Chicago
1200 W. Sherwin #1L, Chicago
1200 W. Sherwin #1E, Chicago
1200 W. Sherwin #30, Chicago
1287 Forest, Highland Park
1200 W. Sherwin #2O, Chicago
1200 W. Sherwin #LO, Chicago
1907 N. Milwaukee, #202, Chicago
1200 W. Sherwin #3L, Chicago
1200 W. Sherwin #2K, Chicago
1200 W. Sherwin #2J, Chicago (Twice)
1200 W. Sherwin #1K, Chicago
1218 W. Jarvis #3, Chicago
1936 W. Albion #1, Chicago
6436 N. Hamilton #3, Chicago (Twice)
2823 W. Granville #2, Chicago
7631 N. Eastlake Terrace #2C, Chicago
6620 N. Glenwood #3, Chicago
1146 W. Columbia #2, Chicago
6436 N. Hamilton #2, Chicago
7419 N. Winchester Unit D, Chicago
1063 W. North Shore #1S, Chicago
7760 N. Sheridan Road #3, Chicago
7731 N. Sheridan Road #3, Chicago
7760 N. Sheridan Road #4, Chicago
7760 N. Sheridan Road #51, Chicago
7760 N. Sheridan Road #52, Chicago
7760 N. Sheridan Road #53, Chicago
7760 N. Sheridan Road #45, Chicago
7760 N. Sheridan Road, #28, Chicago
1500 W. Birchwood #3, Chicago
1330 W. Albion #3, Chicago (Twice)
1030 W. Columbia, #2, Chicago
1210 W. Jarvis, #3S, Chicago
1309 W. Fargo #3, Chicago (Twice)
1435 W. Greenleaf #1N, Chicago
1502 W. Greenleaf #1, Chicago
1518 W. Schreiber, #1, Chicago
7320 N. Rogers #313, Chicago
7306 N. Winchester, #506, Chicago
7306 N. Winchester, #407, Chicago
1224 W. Jarvis #1, Chicago
7356 N. Damen #3, Chicago
1621 W. Fargo #3, Chicago
7710 N. Sheridan Road #302, Chicago
1425 W. Jonquil #2, Chicago
1415 W. Greenleaf #1S, Chicago
2056 W. Jarvis #1, Chicago
1228 W. Jarvis #2S, Chicago
7306 N. Winchester #407, Chicago
1627 W. Fargo #3N, Chicago
1625 W. Fargo #1N, Chicago
1625 W. Fargo #2N, Chicago
1303 W. North Shore #2, Chicago
7521 N. Damen #L2, Chicago
1205 W. Sherwin #614, Chicago
1340 W. Touhy #102, Chicago
1340 W. Estes #2S, Chicago
1514 W. Victoria #1, Chicago
7309 N. Ashland #1D, Chicago
6812 N. Wayne #2G, Chicago
1442 W. Jarvis #2, Chicago
7348 N. Ridge 18A, Chicago
3313 W. Sunnyside #2A, Chicago
845 Ainslie #3, Chicago
1321 W. Fargo #1E, Chicago
9250 Noel Road #1H, Chicago
7356 N. Damen #3S, Chicago
1364 W. Greenleaf #3N, Chicago
5100 W. 79th, Burbank
1360 W. Greenleaf #1N, Chicago
7050 N. Washtenaw #2, Chicago
5543 W. Higgins, Chicago
1353 W. Greenleaf #2F, Chicago
6924 N. Sheridan Road #1S, Chicago
7622 N. Greenview #1N, Chicago
5801 N. Sheridan Road #10A, Chicago
2422 W. Farragut, #3B, Chicago
4901 N. Avers #3, Chicago
4045 N. Kimball, #2, Chicago